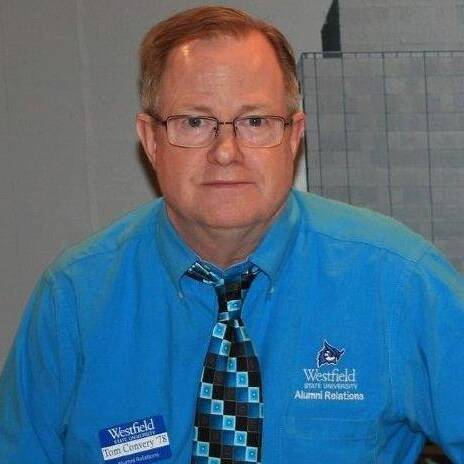 The Thomas H. Convery '78 Scholarship for Community Service
With his love for the underdog and his belief that it is better to give than to receive, Thomas Convery has started the Thomas H Convery Scholarship for Community Service. Tom, a 1978 graduate of Westfield State with a degree in History and Education fondly remembers his time as a student at Westfield State. While Tom was at WSU, he played Varsity Soccer and took part in all intramural sports. Upon graduation, he helped start the Women's Soccer program in 1978.
Volunteering plays a significant role in Tom's life. He has been a Make-A-Wish volunteer since 1994 and has worked on over 40 children's wishes. As a Make-A-Wish volunteer, he has had a key role in many fundraisers, which have helped to raise over $100,000 for the foundation. Tom has donated blood or platelets 315 times and he has received the Massachusetts Red Cross 2010 Apheresis Donor of the Year Award.
Other agencies Tom has volunteered with include: Children's Hospital, Yawkey Family Inn, the Jimmy Fund, Local Heroes, Wilmington Family Counseling, and a Bone Marrow Drive.
Tom served our country as a Security Policeman while a member of the U.S. Air Force from 1971-1975.
Tom's long-time career dream was to return to Westfield State. This dream was realized when he came to work for WSU in the Alumni Office, in May 2015. As part of his job, he is the Lifetime Owls Coordinator and Alumni Liaison to Athletics.
Tom was driven to create this scholarship out of a desire to help those who share his passion for helping others. The Thomas H Convery Scholarship for Community Service is fully endowed. Financial support for this scholarship will be provided by Tom through payroll deduction and through gifts to the Westfield State Foundation.
Impact
"Thank you so much for not only your consideration, but also for selecting me to receive this honorable scholarship. It is so meaningful to be recognized for the work I have been able to do in our community the past few years."
-Alissa Smith '19, Criminal Justice and Psychology
"Coming from a family of five and being the first in my family to attend a university, I am able to set an example for my younger siblings. Being awarded the Thomas H. Convery Scholarship for Community Service and excelling through my academic career, I have proven to them that through hard work and determination, anyone can achieve their goals."
-Matthew Giebel '21, Biology & Health Sciences
"Being the recipient of the Thomas H. Convery Scholarship means a lot to me because I enjoy doing community service and impacting the lives of others. This scholarship means a lot because recently thinking about paying for school has become more stressful."
-Samantha Letsche '21, Psychology
"I was truly honored to find out I had been selected for the Thomas H. Convery Scholarship for Community Service, and am extremely grateful for your contribution towards my academic pursuits."
- Brandon Sullivan '21, Biology & Health Science
"I want to personally thank you for awarding me with the Thomas H. Convery Scholarship for Community Service. I hope to in the fall continue my service for the city of Westfield by promoting and running a field day to promote healthy living."
-Cathryn Rigby, Elementary Education & Liberal Studies
"For the remaining one year I have on campus, I promise to continue serving the campus community. Hopefully, in the future, I am also able to help students just like I have been helped. Once again, I would like to thank the donors for taking away some of my financial burden."
-Maninder Singh '22, Environmental Science & Regional Planning