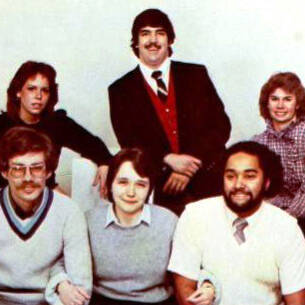 The Class of 1983 Scholarship
From the 1983 Tekoa yearbook: Quote from Class President, Linda (Feinerman) Dean:
The good old days!
As you turn through the pages of Tekoa 1983 and see the places and faces that you have known during the last four years, these good old days will come to mind. Ten years from now, when you look through this dust-covered yearbook, you may not remember who your freshman roommate was or which professor you had for biology, but you will remember the good old class of 1983. But for now, sit back and smile because our time has finally come and we proved we were truly awesome.
Good Bye Westfield State. Good Bye Class of 1983.
I'll never forget you.
Sincerely,
Linder Feinerman
Senior Class President.
This scholarship was established by the Class of 1983 with the leadership of class officers, Linda (Feinerman) Dean, Class President and Jim McSherry, Class Vice President. The class decided not to present its traditional class gift on graduation, but instead, allow it to grow so the class could present a larger amount 25 years later in the form of scholarship aid.
Impact
"Thank you for allowing me to chase my dream in a place that I really consider to be my home (WSU)."
-Andrew J. Morin, Nursing
"Your deliberations and generosity have transformed my ability to attend college and pursue the career of my dreams."
-Jon Cubetus, Criminal Justice and Political Science
"I have made it my non-learning goal since the moment I stepped onto campus to give back to other students in any way possible, and to see the Class of 1983 commit itself to the same mission provides me with a great amount of pride in the work I do."
-Brendan McKee '18, Nursing
"Westfield gives its students so many incredible opportunities, and I am so glad that the opportunity of this Class of 1983 Scholarship allows me to pursue even more."
-Carly Thibodeau '20, Economics & Environmental Science
"I would like to extend my most sincere gratitude to you for selecting me to be a recipient of the Class of 1983 Scholarship. With the financial assistance that this scholarship provides, I feel as though I can fully focus on continuing to be an active and engaged member of the WSU community."
-Jenna Eckstrom '20, Elementary Education & Liberal Studies
"I have really enjoyed my first three years at Westfield State University and this scholarship will really help me in my last year. I am truly thankful for the class of 1983 for this and I hope that I will also be able to pay it forward after I graduate!"
-Lindsay McNulty '22, Environmental Science